Chet Atkins and Rick Foster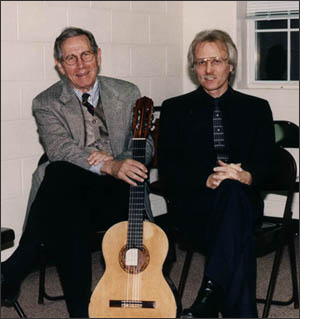 Rick Foster's admiration of Chet Atkins began when he heard the album Chet Atkins Plays Back Home Hymns. His friendship with Chet Atkins began when Chet Atkins suggested that they meet at a Chet Atkins concert in Georgia. Read the whole story of Rick's Memories of Chet Atkins. Check out Rick's Letters from Chet Atkins, and enjoy a few of Rick's Pictures with Chet Atkins.
This photo of Chet Atkins and Rick Foster was taken backstage before Rick's concert at Forest Hills Baptist Church, Nashville, Tennessee, March 10, 1996.
The guitar is a Milburn guitar made by luthiers Orville and Robert Milburn.