Rick Foster Biography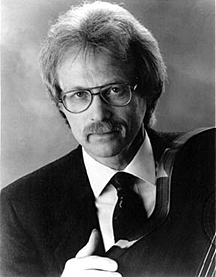 At the debut of the Contemporary Christian Music scene Rick Foster was in the forefront as a sacred solo guitarist playing an entirely sacred repertoire on the classical guitar. He was the first to play a full concert of sacred music on the classical guitar. He was also the first to arrange and record an album of sacred music for solo guitar. That album, Hymns for Classic Guitar, was a milestone in guitar recordings, drawing rave reviews and many expressions of appreciation from his listeners. Not only were his listeners pleased with the peaceful quality of his music, but fingerstyle guitarists around the world appreciated being able to obtain arrangements of some of their favorite hymns and sacred music, which up to this time were unavailable. At present, a companion book of arrangements is available for each of Rick's recordings.
Recognition
Rick's skillfully crafted music has drawn a Dove Award nomination from the Gospel Music Association for Gospel Instrumentalist of the the Year. He appeared as a guest of the 3 Angels Broadcasting Network. Many readers of Fingerstyle Guitar Magazine have enjoyed his columns regarding various aspects of performing and arranging sacred music for the guitar.
Background
Rick Foster comes from a Christian family and has enjoyed the great hymns of the Christian faith since he was young. His love for both sacred music and the guitar led to a search for solo guitar arrangements of his favorite hymns. Unable to locate such arrangements, he set forth upon a lifelong goal of creating a repertoire of sacred music for the classical guitar.
Influences
Rick began playing the Hawaiian steel guitar at age eleven and shortly thereafter took up the 6 and 12-string guitars, playing with a flat pick. At age 14 he began playing electric guitar in a surf-rock band in Southern California. About this time he was exposed to the fingerstyle recordings of Chet Atkins and Andrés Segovia, and began using a thumb pick in an attempt to play both the bass and melody notes at the same time. He taught himself to read guitar music and shortly after graduating from high school began trying to play some Sor studies from an old Segovia manuscript, still using a thumb pick since he did not realize that no picks are used in classical guitar technique.
During Rick's first year of college he attended a recital by the great classical guitarist, Andrés Segovia. Highly inspired, he enrolled as the first guitar major in the newly formed guitar department at Cal State College in Fullerton, California.
Teaching and Performing
At age 18 he began teaching guitar. During the next 20 years he made his living teaching and playing in restaurants, all the while developing the playing and arranging techinques that led to his first album of hymns. That album, Hymns for Classic Guitar, was to become the first in a series of albums that eventually resulted in enough arrangements for Rick to present a full length concert of sacred music on the guitar.
Between 1981 and 2005 Rick and his family toured throughout the United States giving sacred concerts for churches, colleges, and guitar societies.
Home
On a personal note—Rick and his wife, Wendy, lived in rural Southern Oregon where they had an organic garden and orchard in which they grew most of their food. The Foster's have two married daughters and three grand children. Currently they live in Walla Walla, Washington, where they still have an organic garden and are enjoying their grand children.
Faith
Rick and Wendy are committed to Jesus and believe that the Bible is the word of God from which we can learn about salvation and gain instruction for living life for the glory of God.
Guitars
Rick plays primarily Ramirez and Milburn guitars.
Rick's Friends, Influences, and Supporters as well as a few guitar products